Images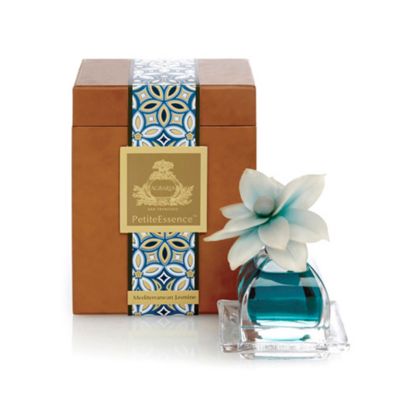 Complete your selection from the options below:
Agraria Petite Essence Diffuser
Details
http://www.gracioushome.com/agraria-petite-essence-diffuser-5062884.html
Promotions
Starting at

$55.00
Our Low
Product Actions
Additional Information
Description

Agraria PetiteEssence Diffusers are exact miniatures of the AirEssence with flowers. Each PetiteEssence includes one flower handmade with thin slices of balsa wood. As the perfumed essential oils are absorbed through the cotton wick the flower petals will change to the color of the oil as the scent diffuses into the air. The individually boxed Petites are perfect gifts and an excellent way to add a spot of fragrance to your home or office.

Product Details

Fragrances:

Bitter Orange - A complex and subtle blend that permeates the air with additive waves of clove, the zest of bitter orange and just a touch of cypress.
Lemon Verbena - Evokes the fresh, clear exuberance of lemon-scented verbena leaves, enhanced with a touch of Caribbean lime and hints of rose and jasmine.
Balsam - A refreshing and luscious marriage that combines the essence of a sweet balsam, California redwood, a hint of French sage and the bouquet of white flowers.
Cedar Rose - A warm woody floral that blends the sultry depth of Cedarwood with the uniquely fragrant Damask Rose.
Lavendar Rosemary - French lavender and Italian rosemary is enriched with the zest of bergamot and a few drops of English Amber.
Mediterranean Jasmine - Mediterranean jasmine, blooming honeysuckle, gardenia buds, freesia, lily of the valley and tuberose.
Golden Cassis- The classic scents of fresh oranges and berries mingle with cassis, rose, jasmine and lily to create this calming contemporary fragrance. But at its heart is Galbanum, an ancient spicy and earthy aroma associated with reducing stress. Sandalwood, warm amber and white musk drift though the background.
Lime & Orange: Bright & brisk, as lemon verbena evokes the fresh, clear exuberance of lemon-scented verbena leaves, enhanced with a touch of Caribbean lime & hints of rose & jasmine.