Complete your selection from the options below:
Antica Farmacista Santorini Diffusers
Details
http://www.gracioushome.com/antica-farmacista-santorini-diffusers-5063029.html
Promotions
Starting at

$66.00
- $94.00
Product Actions
Additional Information
Description

Antica Farmacista Home Ambiance Fragrances, the signature product in the collection, are a unique and beautiful way to fragrance and decorate the home.A medley of crisp citrus and green notes artfully paired with exotic spice and natural wood essences. Top notes of vibrant italian bergamot sweet verbena and fresh vetyver are enhanced by the subtle sweetness of rosewood, warm sandalwood and aromatic cardamom.

Product Details

The Home Ambiance Fragrances utilize antique inspired apothecary bottles, filled with fragrance, to permeate the air through the bottles' open neck and white birch reeds that are inserted to further diffuse the scent. Simply position the fragrance bottle in the room of your choice and uncork. Place the reed bundle into the neck and reverse the reeds every few days or as desired to enhance the scent. The Antica Farmacista fragrance will infuse the air and provide a lasting, constant and beautiful scent.
You may also need
Products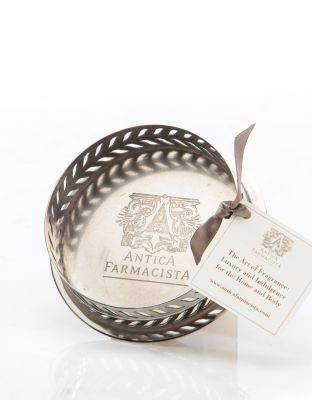 Complete your selection from the options below:
The Antica Farmacista luxuriously detailed nickel plated trays are the perfect accompaniment for your home ambiance and bath and body products. A polished look is ideal for a powder room, kitchen or any refined space in your home.
Promotions
Starting at

$18.00
- $20.00
Please select a Quantity between 1 and 99