Complete your selection from the options below:
Juliska Country Estate Tulipere Tower
Details
http://www.gracioushome.com/juliska-country-estate-tulipere-tower-01234884.html
Promotions
Starting at

$695.00
Our Low
Special order only
Estimated lead time: 2 weeks
Product Actions
Additional Information
Description

This stunning tiered tower of three vases was inspired by the Tulipieres of the 17th century, when exotic imported flowers were status-symbols of elite households. Display your our own beloved stems in this blossoming sculpture for a fresh beauty.

Product Details

* Dimensions: 7″ W x 19.5″ H

May the bounty of your table be as boundless as the lovely English landscapes depicted in this new dinnerware collection, Country Estate. With every nibble or sip, you take one step further on a charming narrative of English country life, with a different enchanting scene on each piece illustrating its romantic architecture, bustling activities, and grand vistas. By interlacing age-old decorative techniques with a chic, neutral, palette and unrivaled functionality, Country Estate maintains thoroughly modern sensibilities while still feeling from the manor born. Mix it effortlessly with many of our other collections, most notably our Berry and Thread designs and cool Pewter Stoneware. This graceful collection is the result of an elegant duet between Juliska designers and Deborah Sears, renowned designer and painter of Isis Ceramics in England.

Designers

Juliska's many creations whether glass, ceramic, metal or otherwise, all have rich European heritage spanning six centuries of European design. Founded in 2001, Juliska began by authentically reproducing antique Bohemian Glass pieces with artisans in the hills outside Prague. Our designs combine exquisite historic themes with imaginative new interpretations, authentically crafted by artisans and technical experts to produce exceptional design, functionality and quality.
You may also need
Products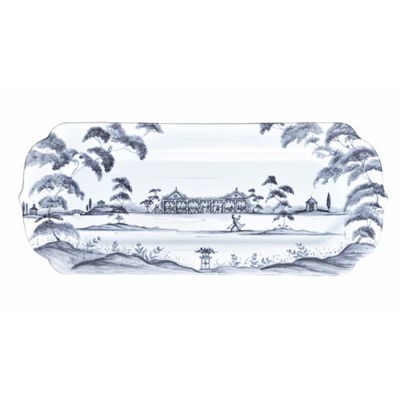 Complete your selection from the options below:
Juliska's lovely tray illustrates the perfect ingredients for a bit of romance: fondness of dancing, a little moonlight, and a fabulous garden party.
Promotions
Starting at

$78.00
Our Low
Special order only
Estimated lead time: 2 weeks
Please select a Quantity between 1 and 99